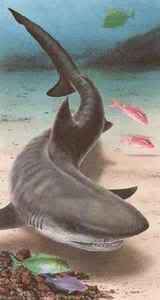 Here in Florida, we have more than our share of sharks. Although attacks are rare, they happen. On Saturday,
a shark attacked and killed a 14 year old girl
in Tallahassee (which is a far distance from the Tampa Bay Area). Having grown up swimming here (and having children) this is a very unsettling report.
I spent a great deal of time at the beach with my grandparents as a kid, and I remember one day when my grandfather and I had swum out to the sandbar. I was feeling very grown up, having swum as far as I had. My grandpa was a great, tall man and I always felt safe with him. We were talking and walking along the sandbar, when he
suddenly told me to climb up on his shoulders.
When I got up there, he said a
lemon shark
had just passed us by. Needless to say, it didn't touch us (I hadn't taken the threat seriously because I was certain that my grandpa could lick a shark any day). But that's when I first realized just how close sharks can come (and intermingle) with us.
What are your shark stories?