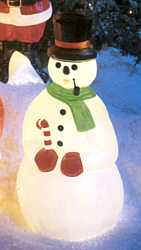 As you recall from an earlier post, my parents live an elegant, reserved life in an elegant, reserved house. For Christmas, they always decorate their home in an elegant, reserved way. They have a lovely Victorian Christmas tree, and hang a beautiful, custom-made wreath on their door. That's about the extent of their decorations.
When we were kids, we'd drive by those tacky Christmas Homes in awe. You know the ones I mean: Santa is on the roof with all of his reindeer, there's a nativity up front on the lawn, and the rest of the house looks like The North Pole; complete with fake candy canes, assorted glowing lawn ornaments, lights everywhere, and faux snow (in Florida you don't usually get the real stuff, of course).
Again, being the helpful daughter that I am, I decided we needed to help The Parents get in touch with their inner Christmas Child. So I began planning about 6 months in advance. I collected lights and lawn ornaments everywhere. I found some great deals at garage sales and thrift shops. I collected santas, reindeer, large glowing candles, I believe a penguin or two, and others. I also bought a large supply of extension cords.
Every year Mom and Dad throw the Perfect Christmas Party for their Perfect Friends (as you already know). Mom (being the Martha Stewart of Florida) always trots out a lovely assortment of made-from-scratch pastries and exotic foods. Dad, ever the genial host, entertains the guests in the Elegantly Reserved Living Room where the Perfect Christmas Tree stands. (I lived with them for 18 years and
still
don't know how they do it so effortlessly).
I needed a co-conspirator and suckered my ex-husband in on it again. My powers of persuasion are mighty! (Now if I could only use them on my new boss at work - he is oblivious to my charm). So, on the night of the Perfect Christmas Party, my ex and I snuck up to my parents home. The kitchen and living room were in the back, but we still were deathly quiet as we tiptoed and crawled around the lawn, carefully positioning lawn ornaments and stringing festoons of light everywhere.
There were a couple times that we froze, while people could be heard inside. But when the last lawn ornament was positioned, and the first guest was leaving, we plugged everything in and...
Voila! Everyone was treated to a Christmas Lawn Display that was
so bright
they needed sunglasses.
Although the guests were somewhat apprehensive, Mom and Dad were appropriately appreciative, and we got eggnog. Mom makes the Perfect Eggnog.
So if
you
wish to prank your parents this holiday season, now is the time to begin planning.